Time is money, and Steven Barfield bends custom frame rails like butter in a matter of minutes on his MB-4×2 mandrel tube bender. At Sschassissworx, the Baileigh bender lets Barfield cash in on increased productivity and help his customers get their jobs done faster. It's a win for everyone involved.
Barfield is the kind of savvy entrepreneur who'll strike gold in a setback. Before buying the bender, he needed to send some rails out to a contractor. But the other guy didn't deliver on time and failed to respond to questions. Barfield realized that if he was frustrated, other fabricators must also be frustrated by waiting 4 to 6 weeks—or longer—for custom rails.
So Barfield and a friend decided to invest in the bender and start their custom rail business. "That was really the number one reason that we bought it: not much for our personal use, but to bend frames for guys all across the US."
Their vision has paid off. According to a recent post, Sschassisworx has shipped mandrel bent rails and other pieces to 35 states as well as 2 countries outside the U.S.
Baileigh Industrial had been in Barfield's orbit for a while before he started cranking out custom frame rails. More than 5 years ago, he remembers, "when I was at SEMA, Baileigh had a big booth set up outside where they were shaping a car, and it really caught my interest." Barfield fueled that interest by browsing our machines on the website and purchasing a few smaller models to try out.
Then Barfield bought an entry-level power hammer. The purchase got him priority access to one of Baileigh's popular metal shaping workshops, hosted at our Wisconsin HQ. "I went to the class for the weekend, 3 days," Barfield recalls. "It was really cool. I had a blast with everybody up there, learned a lot."
The workshop proved a valuable networking opportunity as well. "We just all kind of clicked, you know. It started a good friendship."
Our social media guru Shane Henderson invited Barfield to reach out with questions and provided some advice and coaching. Barfield explains, "He wanted to help us on our Instagram account a little bit, to make it look better, and he seems to be really good at that!"
Barfield quickly found a robust audience and customer base on social media. "It's definitely helped because that's where all of our business comes from right now."
Next, Barfield purchased a more advanced power hammer. "And then the business took off. We started doing restoration work more and more and more, because people realized that we had equipment to do the work with. And that's how we ended up with a chassis business."
Barfield mulled over the idea of a mandrel bender for more than a year, but he lacked the funds. A partnership finally gave him the opportunity to acquire the equipment and launch a specialty business. "I have a customer that had become a good friend of mine," recalls Barfield. "And he approached me one day and he said, 'Hey, we need to find something for me and you to do together as a business.' I said, 'Well, I'd like to have a mandrel tube bender,' and he had no idea what it was!"
One major advantage of Baileigh's mandrel bender, according to Barfield, is its simplicity. Barfield's partner had no previous experience with mandrel bending, and he quickly got up and running on the machine.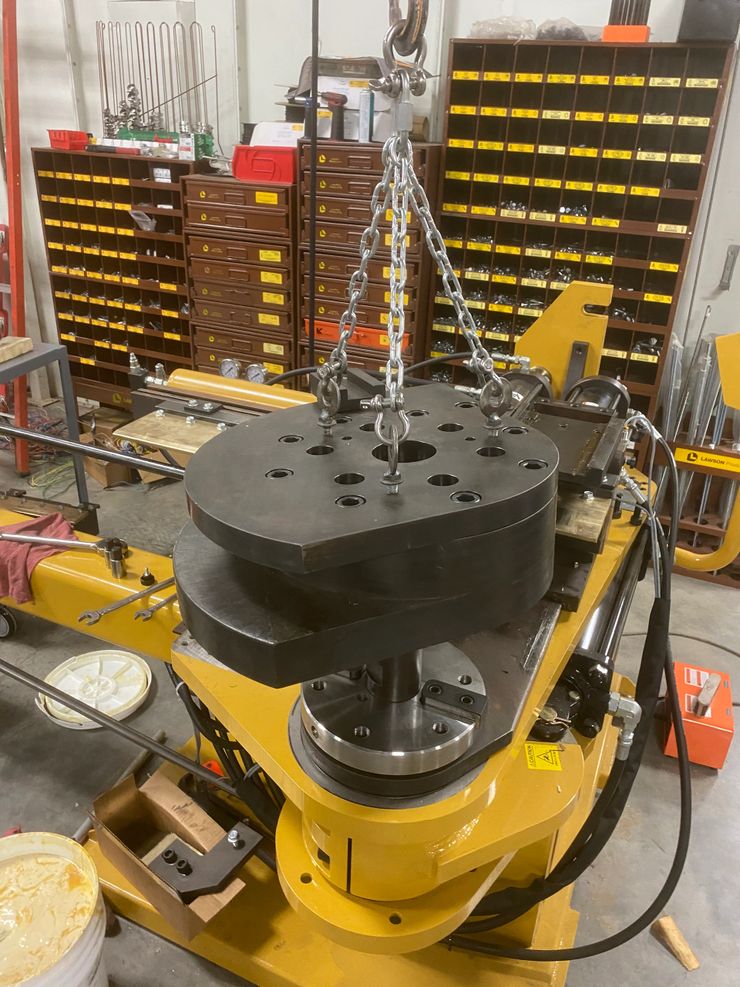 Baileigh's customer support has also been a boon for Barfield. "It's a big company, but it feels small when you deal with them," he says. "If I have a shop full of only their equipment, then I only worry about contacting one person when I need supplies versus trying to track down where we bought it from or who's the supplier for it."
And the range of machines make it possible to treat Baileigh as a one-stop shop for the most part: "they just have everything we need."
Although the past year proved challenging for many, Sschassisworkx stayed strong: "business is going good." Now Barfield is coming for the offroad market by bending up 3/16" rails.
Barfield credits his Baileigh machines with setting him apart in the market. "There's tons of shops doing that kind of work but there's not a lot of shops that have a hammer or have equipment, like what we have, what Baileigh offers, to be able to do a full job," says Barfield.
"I mean, you don't need $100,000 of equipment to build a hot rod, but it sure helps, and it makes your work look 100 times better. So I feel like that's a big advantage to us."
Follow Barfield and the Sschassisworks crew on Facebook and Instagram.
Baileigh Products Referenced in Post